FINISHES + OPTIONS
*FINISHES/OPTIONS AVAILABILITY MAY VARY - all finish and option selections are subject to builder approval and vendor inventory. Images represent our paint inventory/availability to the best we can provide via what the human eye sees. We do our very best to match this menu!

WHEN ORDERING - JUST SELECT 'CHOICE OF FINISH' ON YOUR PEDAL OPTION CHOICES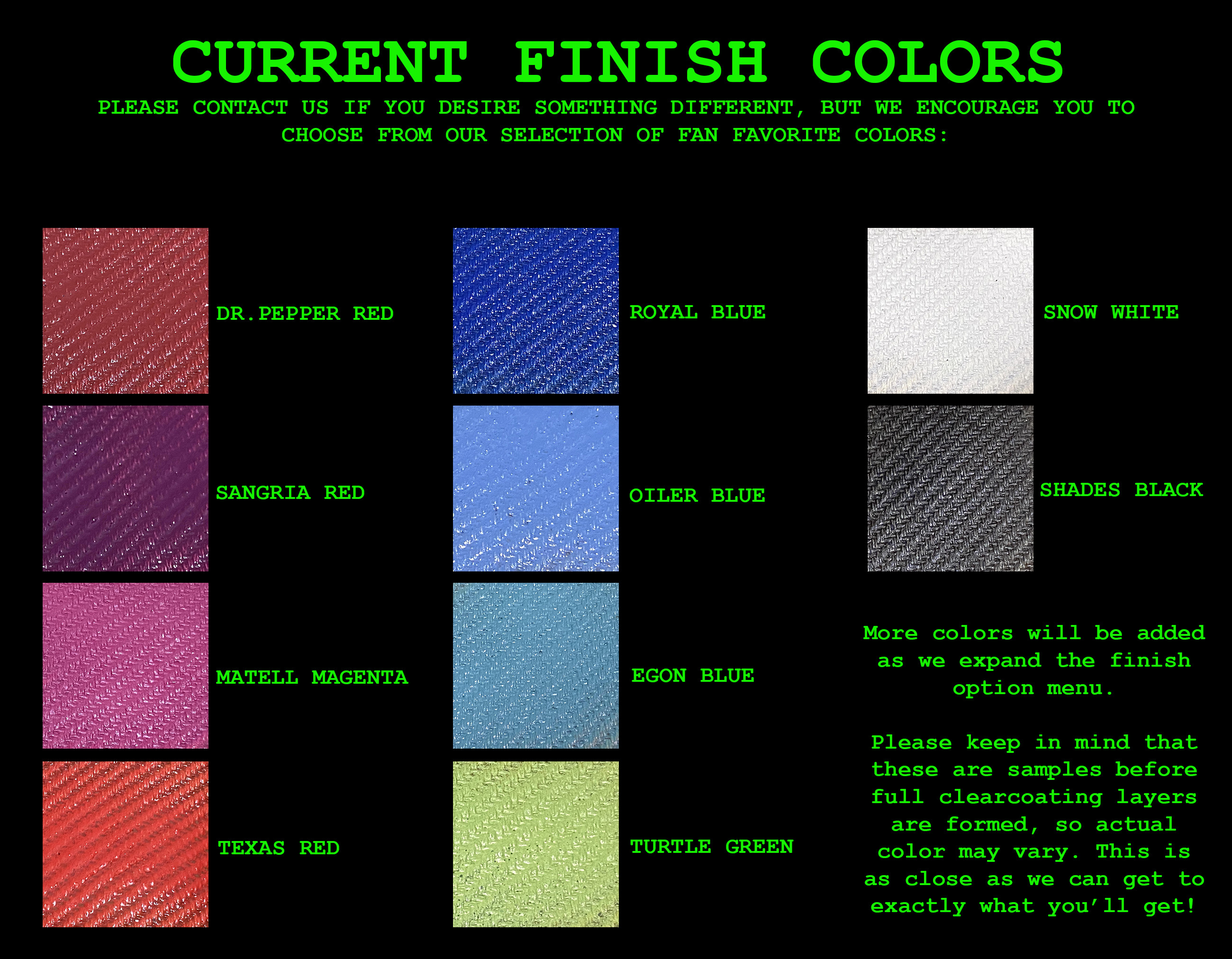 VINYL TOLEX FINISHES:
SNAKESKIN (Black/White)
DIGITAL CAMO FOREST
DIGITAL CAMO NIGHT OPS
UK ORANGE
UK ORANGE BLACK
PAINTED/PRIMED FINISHES:
BLACK SPIDER (1-2 Base Colors)
STORM SPLATTER (2-3 Mixed Colors)
TIGER CAMO (2 Colors)
LIQUID GOLD DRIP
LIQUID SILVER DRIP

SPACE-ETCHED/GLITTER FINISHES:
BLACK HOLE
ECLIPSE
MOON VOLLEY
COMET AND STAR
TWIN STARS
TWIN MOONS


KNOBS:
Please visit the LOVEMYSWITCHES KNOB PAGE for a selection of knobs we encourage you to choose from. Expensive choices may incur an additional charge.

LEDs:
5mm BYPASS
RED
BLUE/UV
YELLOW
WHITE
GREEN
PINK

3mm TOGGLE
RED
GREEN

JUST ORDER YOUR PEDAL AND WE CAN WORK THE FINISH ARRANGEMENT OUT AS WE BUILD, NO WORRIES FOR YOU!

CHECK BACK - MORE OPTIONS LISTINGS COMING SOON!